Posted By
Down Syndrome Association of Greater Winston Salem
New Name, New Look, New Energy-The Down Syndrome Association of Greater Winston-Salem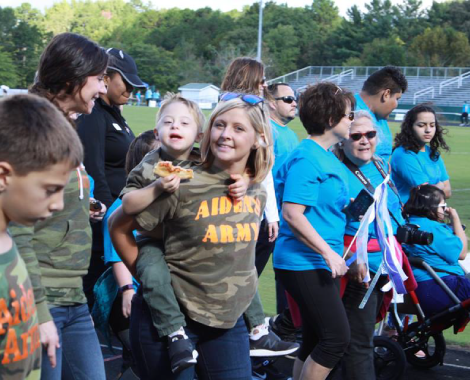 By Guest Blogger Laura Laxton
Source: Triad Mom on Main
As we celebrate World Down Syndrome Day on March 21 (get it? 3-21, because people with DS have three copies of the 21st chromosome), I'd like to (re)introduce you to one of Winston-Salem's most active and vibrant organizations: The Down Syndrome Association of Greater Winston-Salem.
You may have known the group by its former name, the Piedmont Down Syndrome Support Network. Since 1984, it has worked to support people with DS and their families and to promote acceptance and inclusion. During the past 35 years, the group has evolved from parents around a kitchen table to an active nonprofit with a board of directors and full-time executive director. And, true to its mission of inclusion, many of the organization's events are open to ALL people with differences, including the Next Chapter Book Club and No Limits II dances.
2018 saw a number of changes in the group – a new executive director, Jay Callahan, came on board and a new board president, McNeil Cronin, was installed, and they have been the Dynamic Duo of DS. Highlights of the DSAGWS's work last year include:
Growing social media presence – The group is now on Twitter, Facebook, YouTube and Instagram
"Meet Our Members" video series – Nine members have been featured with more than 40,000 views
Filmmaker Brian Donovan was brought in to show his documentary Kelly's Hollywood to a full house at a/perture
More than 1,200 people attended the annual Buddy Walk at West Forsyth High School in October
A number of social events for people with Down syndrome and their families took place
With the change in leadership came an opportunity for evolution. In February, the group announced the rebranding and organizational name change, complete with new logos and a soon-to-arrive online merchandise store on a soon-to-launch new website. (Follow DSAGWS on social media to be notified when the site launches.)
"This decision was made for a variety of reasons, and I can assure you that the process was handled with the seriousness and thoughtfulness that our organization deserves," Cronin said. "Ultimately, we feel that this name change better captures the spirit of who we currently are.
"We feel strongly that the Down Syndrome Association of Greater Winston-Salem will build on the incredible history and tradition of the PDSSN, and that our best organizational days are ahead of us," he continued. "Our mission will never change, to bring people together and enrich the lives of those with Down syndrome so they can reach their full potential and achieve their dreams."
In that spirit, DSAGWS has multiple events taking place in the next month. Tonight, members will celebrate World Down Syndrome Day with a showing of the documentary Intelligent Lives at a/perture and gathering at Wise Man Brewing, followed next week by the annual 3-2-1 Deacon Dash 5K and Fun Run on March 30 at the fairgrounds. The 5K includes an optional extra 0.11 mile for a total distance of 3.21 miles, to raise awareness and support for Down syndrome. Activities include music, games, light snacks and food trucks.
April will see nationally known speaker, actor and disability advocate Frank Stephens come give a talk at Innovation Quarter, as well as DSAGWS partnering with Wake Forest University for Victory Day. Stephens has testified before Congress, received national attention for an open letter to Ann Coulter in 2012, and performed in the movie Touched By Grace. Victory Day, which started in 2010 in Michigan, brings together athletes and individuals with physical or intellectual disabilities, who don jerseys and practice with a high school or college football team for an evening. This will be the second such event in the state and most of the Southeast. (N.C. State held its first Victory Day last fall, and the event got rave reviews from participants and players.)
Callahan and Cronin say there are more exciting events to come in 2019, both social and educational. Anyone who wants to be involved, sponsor, volunteer or just learn more about the organization and the people it serves is MORE than welcome to attend. Also, anyone interested in providing employment opportunities for adults who have special needs is encouraged to contact Callahan at either 336-739-DOWN (3696) or jay@dsagws.org.
Down Syndrome Association of Greater Winston-Salem (formerly Piedmont Down Syndrome Support Network)
336-739-DOWN (3696)
facebook.com/dsagws
twitter.com/pdssn
instagram.com/dsagws
Executive Director – Jay Callahan
Board President – McNeil Cronin